Marion Steiner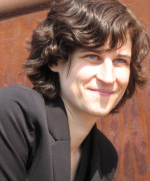 Born 1975 in the Ruhr region. Based in Berlin since 1996. Spent some years living in Chile, Spain and France.
Studies of geography, philosophy, anthropology, urban and regional planning, political sciences and geopolitics.
Broad professional experience in international projects working in different European countries.
Member of the 'International Comittee for the Conservation of the Industrial Heritage' TICCIH and the German society 'Georg Agricola Gesellschaft'.
since 2011: Coordination of the 'Berlin Center for Industrial Heritage'
Initiation of a Berlin-wide network of people engaged with the topic, and development of a qualified touristic concept aiming at re-visualizing Berlin's industrial stories.
since 2005: Free-lancer projects on industrial heritage with different partners
Ideas, concepts and realisation of international projects on industrial heritage and regional development policies in different old industrial regions: Northern France, Ruhr, Wales, Berlin...
2009/2010: Team leader for Belgium in a European cultural project, based in Berlin
Realisation of two music and film festivals and a travelling photo exhibition on Climate Change in Belgium. Initialization of an inter-regional cooperation between the Flemish and Wallonian project partners.
2008/2009: Coordinator of a European Thematic Network of ten cities, based in Duisburg
URBACT-II-Progamme, RegGov network on "Regional Governance of Sustainable Integrated Development of Deprived Urban Areas". In close cooperation with the European Commission, GD Regional Policies.
2004/2005: Project leader on International Affairs in Northern France
Supporting the UNESCO-World Heritage Site Bid of the former coal-mining region 'Bassin Minier'.
2003/2004: French 'Master-Pro' in Geopolitics, Institut Français de Géopolitique, University Paris 8
Final thesis on 'Intercommunal Co-operation and Culture-led Regeneration Policies in the Ruhr.'
mid-May 2002: German 'Diplom' in Geography, Humboldt University of Berlin
Final thesis on 'Waterfront Revitalization Planning in Chile's Port City Valparaíso.'
thanks to my collaborators:
Audrey Guiral (urban planner, Paris): German-French contextual translations.
Frederik Bombosch (geographer & journalist, Berlin): help with the website's concept and text.
Henrike Lehnguth (cultural sciences, Washington D.C.): German-English context translations.
Karsten Feucht (architect & walking guide, Lusatia): TICCIH 2009 Conference.
Katrin Steiner (online editor, Münster): website editing (2007-2010).
Marlene Damerau (geographer, Bochum): co-interpretations at Chance-MMX-Conference (2008) and the Study trip to Norther France (2010).
Petra Keijser (geograper & producer, Amsterdam): photos for the website.
Vania Santi (humanities & music agent, Cesena): inspiration.